scrollOffset; " x-on:mousewheel="clickToSection = false;" >
KC04
Ready-for-use mobile cold storage cell with a volume of 20 m³ and a large refrigeration capacity (overcapacity). The cold storage cell has been fitted with a flat anti-skid floor, lighting, a door that opens smoothly (also from the inside), and has a very low entry height. The cold storage cell meets the HACCP/GMP requirements and is easy to install, even in locations that are difficult to reach, as well indoors as outdoors. The storage cell is low noise and low power.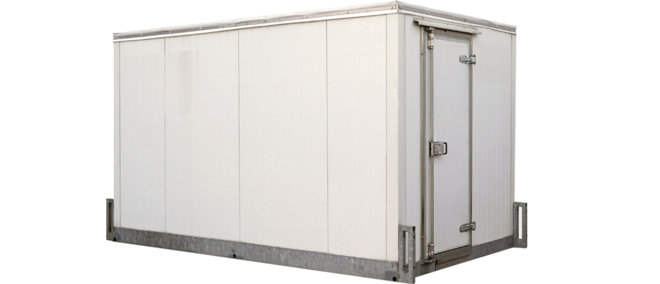 Technical specifications
Amount of pallets (euro)
5
Min. inside temperature
-2 °C
Max. inside temperature
10 °C
Power connection
Schuko 230V
Length (external)
4000 mm
Height (external)
2500 mm
Height (internal)
2260 mm
Sound level (at 10 m)
37 dB(A)
Min. outside temperature
-20 °C
Length (internal)
3840 mm
Is your solution not mentioned on this page or do you have special requirements? 
Feel free to call our service desk 24/7. We are ready for assistance.