scrollOffset; " x-on:mousewheel="clickToSection = false;" >
Additional freezing capacity for production bakery, renting shock freezers in customised configuration
Vandemoortele, a european market leader in bakery products. At one of its growing production sites, they quickly required a temporary solution for freezing cake and pastry products. A complete customised rental installation by Coolworld immediately offered the solution:
✔️ Quick scale up of freezer refrigeration space
✔️ Reliable food-safe extra freezing space for products
✔️ Seamless connection to existing bakery infrastructure
✔️ Extra freezing capacity as a buffer during production peaks.
Interested in how Vandemoortele further benefited from the Coolworld set-up? Then read on right away. Looking for a similar solution?
Additional freezing capacity in use quickly
In and around the bakery, quality products and ingredients are coming and going. With growing demand for these among the varied customer base, enough (moving) space is more the welcome. A clear advantage of rental cells is that additional freezing capacity can be quickly added to a production location. Even with phased conversion or new construction, it is easy to scale up. How Coolworld took care of this?
Storage to approximately -20 °C.
With stable temperature stored -20 °C. Extra cells and buffer space from which products are perfectly frozen delivered to kitchens or bakery of customers.
5 freezing cells with ante room
Seamlessly connected to both the existing building and the adjacent indoor cold store.
Approximately 125 m³ of additional freezing space was added so quickly.
Powerful and energy-efficient
The new freezer cells (type MI01) were installed on a special concrete foundation in cooperation with the project team. After completion with 24/7 service teams on standby.
Food safe and practical.
Easily accessible with roll cages. Well-insulated HACCP compliant freezer cells. Everything quickly and custom assembled in the rental setup.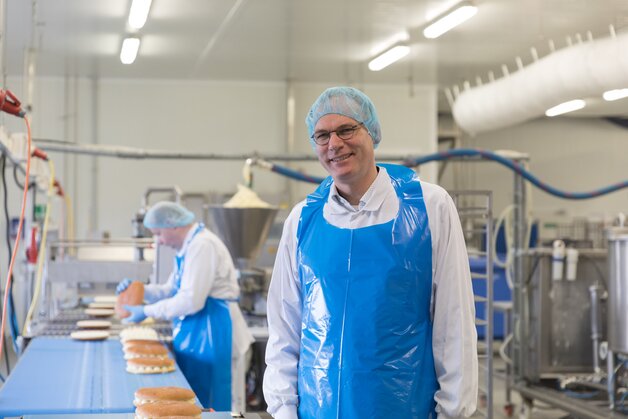 "Together with Coolworld and the project team, the job was done. It was also very nice that production could continue uninterrupted in addition and we quickly had extra buffer space at our disposal."
Josja Van Isterdael, Site manager

About Vandemoortele
Vandemoortele is a european market leader in two core activities: Bakery Products and Margarines, Culinary Oils and Fats. In over 100 years it has grown into a full-fledged international food company. Worldwide they sell high quality products, from various locations and specialized divisions.
Active in 12 european countries, the USA and Asia. With 29 high-quality production locations.
More than 4600 products in the product range. Clean Label products and plant-based alternatives guide people to better health and a tasty, sustainable future.
Vandemoortele has an active policy on energy reduction and reducing CO2 emissions. Development of environmentally friendly, circular packaging. Use of 100% green energy in offices and production sites.
The bakery in this project mainly makes cake and pie products for the foreign market. The various delicacies are frozen immediately after production. Guaranteeing taste and quality is paramount.